Treon Gateway - Factory Reset & Disposal
Sep 6, 2023 · 3 minutes to read
Introduction
At the bottom of your Treon Gateway you will find a button you can press to perform a 'factory reset', meant to be performed only before disposal of the device.
For the Treon Gateway in Protective Enclosure, you first need to remove the device from the enclosure to reach the button.
Please note: Only use the factory reset on the bottom of the Treon Gateway after confirming this step with Treon Support.
Performing a factory reset will NOT RESET the Treon Gateway to the original configuration you received! Instead, it will delete all of your user-specific data. The factory reset is intended to delete all of your data at the gateway's end-of-life so you can dispose of it securely.
When you perform a factory reset, the Treon Gateway will no longer function in the intended way and cannot be repaired!
With the the Treon Gateway software release 6.4, the device will react in the following way to pressing the 'factory reset' button:
0 seconds: The button press is initiated, button is held constantly.
5 seconds: The led starts blinking blue.
30 seconds: The led light turns red and stops blinking.
55 seconds: The red led light begins to blink rapidly.
60 seconds: Wiping the device is finished. The Gateway is ready for disposal.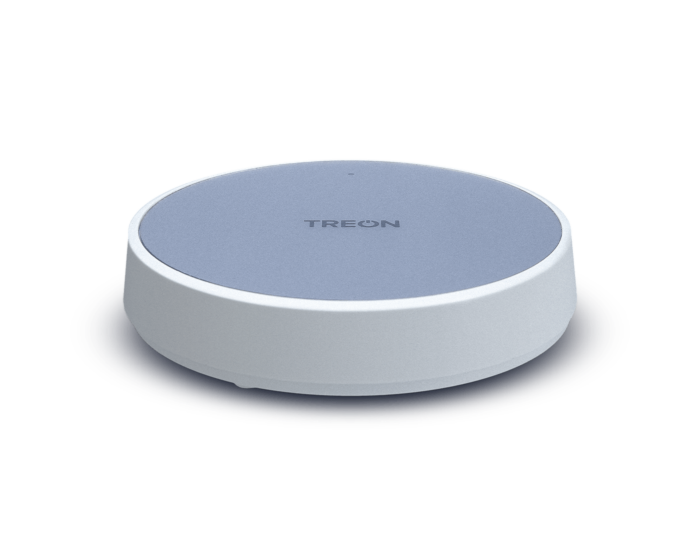 Recycle
Check the local regulations for proper disposal of electronic products.
The Directive on Waste Electrical and Electronic Equipment (WEEE), which entered into force as European law on 13th February 2003, resulted in a major change in the treatment of electrical equipment at end-of-life. The purpose of this Directive is, as a first priority, the prevention of WEEE, and in addition, to promote the reuse, recycling and other forms of recovery of such wastes so as to reduce disposal.

The crossed-out wheelie-bin symbol on your product, battery, literature, or packaging reminds you that all electrical and electronic products and batteries must be taken to separate collection at the end of their working life. Do not dispose of these products as unsorted municipal waste: take them for recycling. For info on your nearest recycling point, check with your local waste authority.
Treon Support
You still have questions? Our dedicated team of experts is happy to help you! Please contact Treon Support directly by e-mail.
Did you know? Treon offers Premium Support and Maintenance Packages for our customers. Get even more out of Treon and boost your sales - inquire now about features and prices!